Legendary Leads - IVR System
What is the Legendary Leads IVR System?

WHAT IS THE LEGENDARY LEADS IVR SYSTEM?
Legendary Leads Software is best for agency owners, realtors, coaches, consultants, loan officers, service business owners (accountants, contractors, dentists, insurance brokers) or anyone who needs to get more clients consistently for growing their business using automated follow-up.
The professional IVR feature is a way to create custom interactive voice response menus, or IVRs for short, to automatically respond to incoming calls with pre-determined actions like sending a text message, forwarding the call and much more. 
A professional IVR system will allow you to free up your time and even help convert your leads into deals for you without you spending any time with prospects who aren't the right fit. That's right, you can create an IVR system to automatically screen and qualify your prosects for you as well!
You can watch the video above to learn more about how the IVR system works! If you'd like our help in setting one up for your business just click the RED button below to get started!
Are you ready to super charge your marketing efforts with the Legendary Leads Software PLUS set up an IVR system to automate your incoming call and convert more leads into deals on autopilot? Click the button below to order your custom IVR:
WHO ARE THESE IVR SYSTEMS FOR?
The Legendary Leads IVR feature is for anyone looking to automate their sales process and turn their incoming calls into conversions. With multiple potential actions depending on your specific requirements, an IVR system allows a ton of flexibility and customization to your unique business. We do custom build-outs with up to 3 IVR trees and one action for just $97.
Once you set up an IVR system, it's basically like your having a virtual assistant that answers and responds to calls for you 24/7! You can create an IVR system for your business with various actions (ie: send an sms, forward a call, drop a voicemail, etc.) and create automated responses to convert more leads and create a consistent inbound call process. You will also be able to create multiple IVR systems if you'd like based on the one we create for you.
Even if you are new to marketing and sales or don't have an existing sales process, an IVR system is easy to understand. You get a new call and they hear your IVR message play with options like Press 1, Press 2, Press 3. Depending which selection they make via their keypad, a different action will fire! Talk about consistency and automation.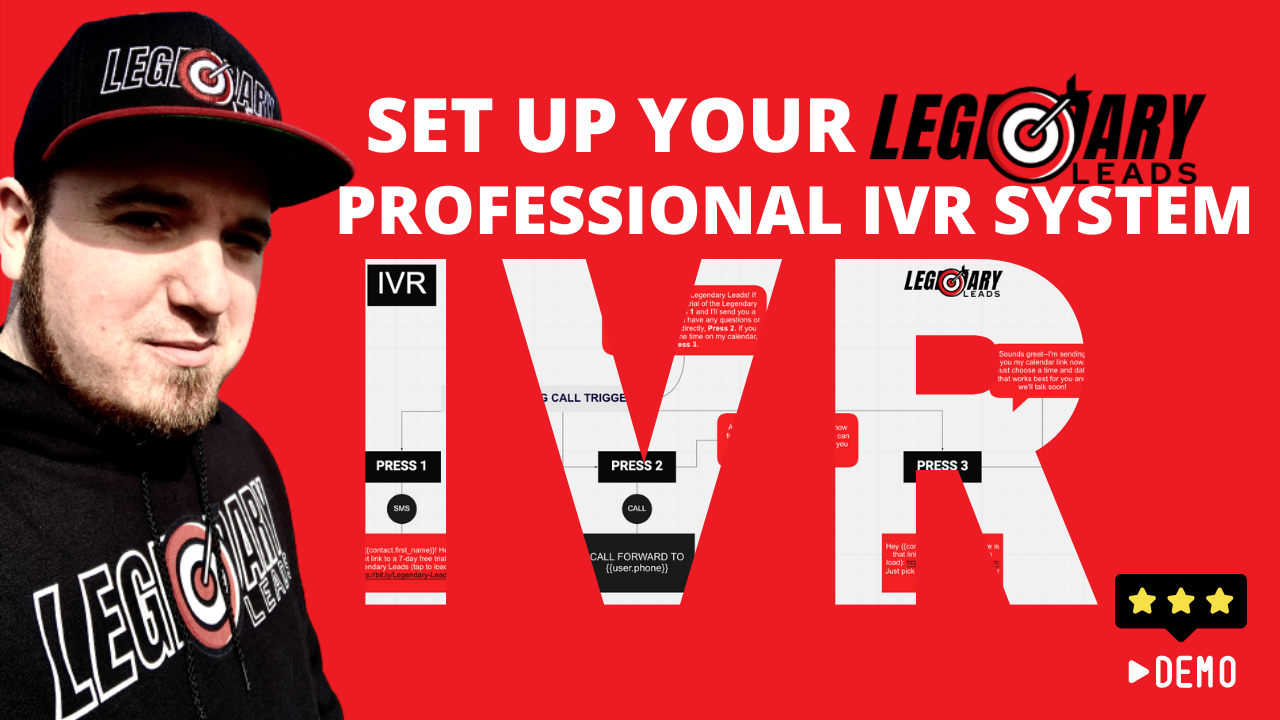 …that's right! You will now be able to convert more incoming calls into deals without even picking up the phone!
Want a sneak peak at what we do? Book a call today for a FREE demo: