Legendary Leads - Sales Pipelines
What are the Legendary Leads Sales Pipelines?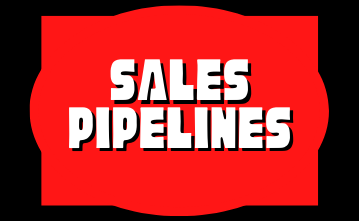 WHAT ARE LEGENDARY LEADS SALES PIPELINES?
Legendary Leads Software is best for agency owners, realtors, coaches, consultants, loan officers, service business owners (accountants, contractors, dentists, insurance brokers) or anyone who needs to get more clients consistently for growing their business using automated follow-up.
The sales pipelines feature is a way to easily track your leads through the sales process and have a visual representation of which stage your lead is currently in. Currently the sales pipeline feature is called "Opportunities" inside of your Legendary Leads Software. 
But the sales pipelines do more than just keep your organized and up to date. You can leverage the Legendary Leads Software to create "triggers" for each stage in the sales pipeline--and for events that can advance leads through each stage outside of the software like completing a form or booking a call.
Legendary Leads sales pipelines allow you to easily manage and automate your entire sales process! You can send emails, SMS messages, calls and more using triggers in the sales pipeline. You can also automate booking calls on your calendar and even sending smart proposals or smart contracts that advance your leads in the pipeline once they are completed! 
Are you ready to super charge your marketing efforts with the Legendary Leads Software PLUS set up sales pipelines to automate your entire sales process from lead generation to hiring and more? Click the button below to sign up for a 7-Day free trial now:
WHO ARE THESE SALES PIPELINES FOR?
The Legendary Leads sales pipeline feature is for anyone looking to organize their sales process and business and automate their work flow. With multiple touch points and an integrated calendar app that works based on triggers, sales pipelines allow a ton of flexibility and customization to your unique business. We do provide free templates you can edit for things like appointment reminders, follow-up drip campaigns, Birthday campaigns, Holiday campaigns and more.
Legendary Leads is perfect for anyone who wants to generate new leads, convert more leads and close deals on autopilot! It's basically like your having a virtual assistant that manages all of your contacts for you! You can create a sales pipeline for your leads with various tags for triggers (ie: Cold Lead, Hot Lead, Customer, Follow-Up, Etc.) and create drip responses to convert more leads and create a consistent process. You will also be able to create notes for each contact (which can be added via smart forms automatically once filled out) to instantly remind you about the lead or store important information.
Even if you are new to marketing and sales or don't have an existing sales process, the sales pipelines feature is easy to understand. You get a new opportunity (lead in) and they start at the first stage in the pipeline. As things happen--an appointment is booked or contract signed--they move to the next stage. Once you've closed a deal you drag the contact to "WON" and it gets added to your closed deals!

…that's right! You even get analytics with every lead that closes or is lost! You never have to guess what your numbers are again--they are right at your fingertips!
Want a sneak peak at what we do? Book a call today for a FREE demo: